It is real hard for foreign importer find a good supplier in China. After read this article, they may find their solution.
"Find a trustworthy supplier,this is perhaps the most important step in your import business. Dealing with a serious and dependable supplier always concerns about quality and can help fend off disputes down the road"—Linda, from UK
"It's very hard to find a good supplier,who want to work for your small qty, and give good service. Most of the factories are only interested in big qty, You'd better consider how can you get priority there for price,quality &after sale service. How to prove them that you have high potential."—–Steven, from UK
"If you don't see it by your eye, or your trust friend see your goods be loaded in the container, you will suffer issues: quality, packing,scratch on the products".——Alen, from Aus
So, how to sourcing from world factory China? Actually whenever you plan to import electronics,ligthings,drones,camera, or Solar panel, or toys,etc from China. It can reduce much risk if you follow below tips&suggestions.
1.Check Supplier's background.
According to my experience handle suppliers(big&small)here, checking supplier's background is more important than everything.Because we are dealing with a company first.We need a trust partner before we pay USD.
You'd better check below info
Supplier Establish time: for a long time established company, I have more confidence that they will be honest. There is some scummers always disappear after receive big money, then register a new one to continue swindle.
Products range: If you are buying outdoor lights from a factory who everyday make it since 3 years ago, and their products already been sold by your local competitors, congratulations to you! You will get the good quality and price! But If you are buying them from a indoor lighting factory, who has limited experience on the water proof, heat transfer & surge protection,you will probably suffer quality issues, and big headache of the aftersale service
Register address: is it the same as they write on the website?are you really dealing with this company? Some person use other's company title to do business, there is much more risk in that case
Legal representative and the stock allocation: For most of the companies, the legal representative won't change since they register, and they have stable stock allocation.But for some company, their legal representative changed frequently,the director's stock changed several times in the past 1~2 years. In this case ,do you think their company is under stable management? Personally, I don't think so,even their own staff don't know who is the real boss!
Company's size: Every buyer want to get best service from the supplier.The same for supplier,they prefer customers who can help them making money by big QTY.So,you'd better check the company's size to make sure you will have priority there. If you plan to buy 50,000 USD from a factory who sale 100 million USD per year, you are "NIP(NOT IMPORTANT PERSON)" for them,they have no time to care you, when you need any custom service,keep waiting….
You may have a question now: how to check above info?—-You can require the potential supplier to send you the copy document of their "company business license". This license is issued by Chinese government, and its information can be double check by Chinese government online service.In this case,you can use google to translate these infomation,or you can ask help from your Chinese friend.We have checked more than 100 supplier's register info in the past 1 month for our foreign connections and our own business, it's quite useful.
2.Know your target quality,make it clear before release the inquiry.
If you want to sell LED Lighting to a local project, but there is no clear product specification on your customer's bidding documents, How to get it? —–I worked with several LED Lighting and power bank buyers,they are new in this business, so I suggest them to take pictures of the local brand LED Lighting\power bank packing box,send them to me by whatsapp. That's it!very easy!because most of the specification are printed on the box, such as: lumin,Ra,CCK,Battery capacity. Some times, to make it's more clear, they sent me a few local samples by air, we tested the real quality in our lab, that's not high cost but very much helpful.
3.Know the different industry distributions in the big China.
If you go to the right place, you can easily select the right supplier.When I guided 2 Europe friends to Foshan furniture production center and Zhongshan lighting center, they felt dazzling, because the whole city (tens of sq KM size,Hundreds of thousands of people) was doing lightings business only or furnitures business only
Let's read the Chinese map below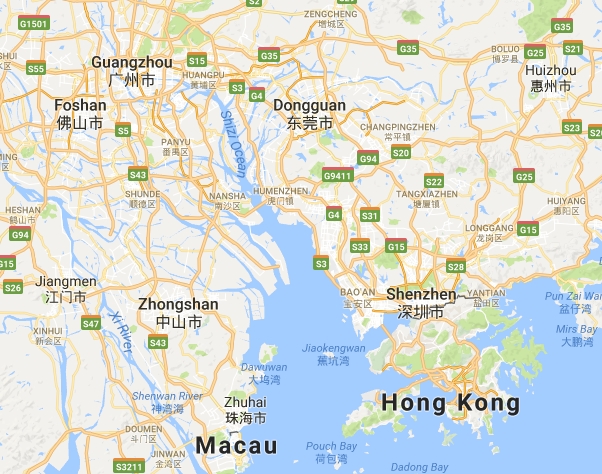 The industry center are mostly distributed near the coastline. We can briefly break down them into 5 region A,B,C,D,E. The #LED Lighting,home appliance manufactures are mostly in A & B, the heavy industry(Steel, equipment,etc.) are mostly in C&D, you can find solar panel suppliers in all these 5 places.And for high tech, Great Shenzhen in A is the best choice.
Please be remind:there is long distance between A,B,C,D,E(800~2500km), so if your suppliers are located in different places, and you want to gather goods in 1 container, you need to prepare for long way land transportation cost.
Below is the detail map for A, my office is located here because it's a strong &intelligent industry center,with very fast reponse supplier chain. It include many famous city: Hongkong, Great Shenzhen,Foshan,Zhongshan,Guangzhou,Dongguan,Zhuhai,etc. It's a fantastic place for traders and importers, you can almost get all you thinkable products,and find the original factory here!!
—-Shenzhen is strong at high tech: Drone(Unmanned Aerial Vehicles), Mobile phone,computer,Intelligent system,Camera,Battery,CCTV,Power Bank,LED Lighting,Robots,IC
—-Foshan&Zhongshan&Dongguan: Home Applicance,ceramic bathroom accessories, hardwares, Lighting,furnitures
—-Guangzhou:automobile industry,auto spare parts,luggage
Reminding: the infrastructure here is excellent. Every city is connected with other city by both express way and fast train(200km~300km\hour).Hongkong International airport ,Guangzhou International Airport,Shenzhen airport are here.It's good for production arrangement and business trip.
4.Avoid the peak season for your order
Chinese new year is mostly around the end of Jan, and Christmas is in Dec. These 2 festival create huge market requirements for almost all kinds of products from China. By below "Chnese supplier busy index", you can see the Chinese supplier are very busy from Nov to to March.
5.Don't focus on price only
If a supplier offer very attractive price, which is 30% lower than others, 90% it's scammer.
Mutual benefit must be the target, we are working together to make money for each other.No factory will work without benefit.
6.Visit the factory
This is a very important step for you if you are going to importing big value of products.In many case, you can know the real ability of your supplier by face to face talking. This is also a very important step for you to create trust with your supplier
It's almost impossible for you to visit each factory for your order, that's costly and waste a lot of time.
Mosun Technology Custom Q&A:
1.How to pay YOU?
Answer1: Paypal, West Union,Payple,TT are all ok for US. For big value and long time partner, L/C is OK
Answer2: For TT, normally 30% before production and 70% before delivery. You'd better inspect the goods before the balance payment
2.How to get samples? Why you require sample cost?
Answer: Most time we are very happy to provide you samples to let the business go ahead. But if we offer samples to every customer free of cost, We will definitely go broke. Some times we offer free samples, but you need to pay the delivery cost. But if you are the buyer of Walmart or other Famous brand, sometimes we can offer free delivery as well
3.How to delivery my goods back to my country?
Answer: you can ask your local delviery agent to offer quotation.And in many case we can help you to book ship\air ,etc. It's the same as you buy goods from Amazon, but you need to wait a longer delivery time, and do custom clean by yourself
4.How long would be the production lead time after down payment?
Answer: Normally 7~15 days.After you fix the order by down payment,we will book raw materials from our own raw material supplier, then waiting-production-testing-ready for delviery. You'd better arrange some time as buffer for your project. Because the lack of raw materials, festivals,quality issues will cause some delay.
5.Do you have ISO9001 Certificate ?
Answer:Yes ,we have but this kind of certificate.
6.As a 1st time do deal with China supplier ,Can you suggest a process on how to place 1st order to them avoid any losses?
Answer: Find potential suppliers–Analysis the background–Require samples and testing–Visit on site to get 1st hand info–Fix the trial order–2nd order. This suggestion is also useful when you going to place an order to us .LOL
7.I have the small Qty order,Can you guarantee my delivery and quality while I do not want to pay extra money on MOQ?
Answer: We have not the MOQ issue for Models we provide to you . Only developing new model with MOQ. Once we accept your samll order ,we will make sure the delivery and product quality.If it is over our production capacity ,we will give you a new delivery before you fix order to us. We never Sacrifice the product quality at anytime.
8.Can I have logo on products or packing ?
Answer: Yes ,you can but make sure the logo is you owner
————Revised by Allen Shek ,Quoted original write by Wang Hank at SKD INDUSTRY CO LTD—–
https://ledmosun.com/wp-content/uploads/2017/08/cooperation-for-better.jpg
340
774
管理员
https://ledmosun.com/wp-content/uploads/2017/06/logo.jpg
管理员
2017-08-01 03:13:56
2017-08-01 03:30:24
How To Find A Good LED Supplier In China